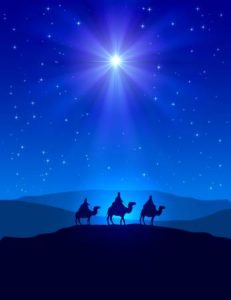 Now after Jesus was born in Bethlehem of Judea in the days of Herod the king, behold wise men from the east came to Jerusalem, saying, "Where is he who has been born king of the Jews?  For we saw his star when it rose and have come to worship him."  (Matthew 2:1-2)
Every human story is about a journey and a search.  You leave home to go to college, or to work, or to start a family.  Then you leave one job for another, or one city for another in search of a better life.  You leave the apartment for the house; the house for a bigger house; always hoping at last to arrive at home.  We're on a journey in search of our lives.  Even if you never leave home, there will be so many changes along the way that nothing stays the same.  Life is always moving, and so we're always searching.
Along the way, we look for guidance.  Some look to family or friends.  Some try the latest self-help fad.  Some try education or the perfect job, or the best company to work for.  Some turn on the TV and get their direction from a talk-show host or a flashy preacher.  Some try spirituality.  Some get so desperate they even try church – anything to find direction; to make sense of the journey.
Around the time Jesus was born, "wise men from the east" saw a new star in the sky and followed its light in hopes of finding a newborn king who could bring an end to their search. We don't know for sure, but perhaps they knew about the hope of a new King in Israel, because over 500 years earlier the Word of God made its way to that part of the world when the Jews were in Exile in Babylon.  Perhaps that Scriptural hope had been handed down to them, they put it together with a sign in the heavens, and set out on their journey.
When the wise men met the infant Jesus, they knew they had come to the end of their journey.  They stopped their search, and bowed down to the true King and Savior.  Maybe that's why we call them wise men; they knew to submit to the truth when they found it – found him. 
Just as the wise men had to travel to the land of Israel, if we would find Jesus we must go to Israel's book.  He is found nowhere else.  As Martin Luther said, "The Bible is the cradle wherein Christ is laid."  If you would seek Christ this Advent & Christmas, travel deeply into God's Word.  If you seek with an open heart you will find him.  And when you do, be wise: offer your gifts, your worship, your whole self.  He is worthy.
Prayer
Come, Lord Jesus!  By your Holy Spirit, give me wisdom to seek you in your Word, as I stand on the promise that those who seek shall find.  Open your Word to me, that I might see you, Jesus, on every page.  And may I be a light to show others the way to You, in your holy name.  Amen.