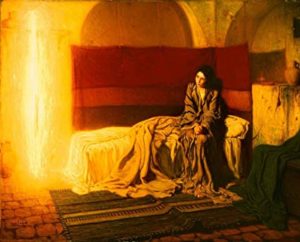 In the sixth month the angel Gabriel was sent from God to a city of Galilee named Nazareth, to a virgin betrothed to a man whose name was Joseph, of the house of David. And the virgin's name was Mary.  And he came to her and said, "Greetings, O favored one, the Lord is with you." (Luke 1:26-28, ESV)
It's like a favorite old easy-chair, this story of Gabriel's visit to Mary.  It's soft and comfortable and so familiar that perhaps we don't look close any more.  It's just another piece of the Christmas furniture.
It was anything but comfortable for peasant girl named Mary.  She was 16 at most, possibly as young as 14.  The angel Gabriel himself came calling to say that she was going to be the mother of the Son of God.  She was innocent, but not naïve. She said, "How will this be, since I am a virgin?" (1:34). Gabriel said, "The Holy Spirit will come upon you, and the power of the Most High will overshadow you; therefore the child to be born will be called holy – the Son of God . . . for nothing will be impossible with God." (1:35-37)
Nothing is impossible for God, but that was a small part of the problem as far as Mary was concerned. How would she explain it to Joseph? What would her family say?  The people of the village would be outraged. Adultery was punishable by death, and though that harsh penalty was rarely exacted, it certainly meant shame and dishonor that would follow her for years to come.
But Mary shows right away at least part of the reason she was chosen for this most honored position. God was taking the initiative, and as far as she was concerned, the consequences were in His hands.  She said, "Behold, I am the servant of the Lord; let it be to me according to your word" (1:38).  That's not mere acceptance of the inevitable.  It's raw courage.
In the old King James translation, Gabriel greets Mary with,"Hail, thou that art highly favored…"  In case you missed it, Gabriel – an archangel! – is addressing this teenage girl with honor. We protestants get nervous about this, but let's give Mary her due.  When her life was interrupted and upended by a gift and calling she didn't choose, she makes one of the most powerful declarations of faith in all of Scripture: I am the servant of the Lord; let it be to me according to your word.  May we have such faith.
Prayer
Come, Lord Jesus!  By your Holy Spirit, give me a faith like Mary.  Help me to accept what you bring into my life not as burden, but as opportunity to trust you more and live for your glory.  I am your servant; let it be to me according to your word.  Open my eyes to see you in your written Word. Amen.