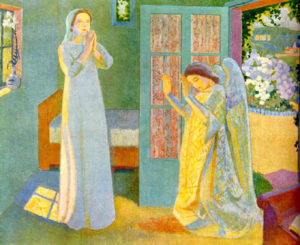 In the sixth month the angel Gabriel was sent from God to a city of Galilee named Nazareth, to   a virgin betrothed to a man whose name was Joseph, of the house of David. And the virgin's name was Mary.  And he came to her and said, "Greetings, O favored one, the Lord is with you!   But she was greatly troubled at the saying, and tried to discern what sort of greeting this might be.  (Luke 1:26-29, ESV)
Since the Reformation of the 16thcentury, we protestants have been so eager to avoid the veneration of Mary that perhaps we've overlooked the remarkable qualities of this young woman, and why God chose her to be the mother of the Son of God.  We often hold up men of the Bible as role models of faith.  Why not Mary?
A quality that consistently shines through in Mary is her humility.  She does not place herself or her plans first.  God is first in her life.  God's will is of higher priority than her own plans.  God's will comes before her reputation.  God's calling comes first for her because she trusts in the goodness of God through any circumstance – even a pregnancy that comes not in her timing and not as a young girl would dream for herself.
Gabriel said, "Greetings, O favored one, the Lord is with you!"  The exalted salutation troubled her.  Why should she be addressed this way?  It's been said the truly great saints do not know they are saints.  In Isaiah 57:15 we read, Thus says the One who is high and lifted up, who inhabits eternity, whose name is Holy: "I dwell in the high and holy place, and also with him who is of a contrite and lowly spirit…"  When Gabriel explained to Mary what would happen, how she would conceive a child as an unmarried virgin at the risk of her reputation and possibly even her life, her reflex response is not a protest, but simply, I am the servant of the Lord; let it be to me according to your word. (Luke 1:38)
Living as we do in a time when the moral scourge of abortion on demand rules our society, I wonder if we can truly imagine – especially we men – what it meant for this teenage girl to be told by God she would be blessed with a child not by her choice and not in her time.  Could any of us accept that?  Only the humble could.  Only those who know they are not their own.  Only those willing to set self aside and say,I am the servant of the Lord, let it be to be according to your word. 
 Psalm 123 says, As the eyes of servants look to the hand of their master, as the eyes of a maidservant to the hand of her mistress, so our eyes look to the Lord our God.  You may be facing grave difficulty right now.  Perhaps your marriage is coming apart or your career off-track.  Maybe your health is gone, or the health of someone you love.  Perhaps you've lost a loved one and wonder how you can go on.  Mary's word to us is that God may call you to trust him through something that seems at first to be the worst thing that could have happened to you. Mary would tell us to trust in the Lord. She knows that her future, her reputation, her very life is not her own but her Master's, and so she is free to let go and let God work a miracle in her life.
Prayer
Come, Lord Jesus!  Send your Holy Spirit into my heart.  Break my pride and self-will.  Give me humility to receive what life brings as from your hand, as opportunity to trust you more and serve you faithfully.  Give me an obedient heart like Mary.  Give me ears to hear your Word.  Amen.